How to add a new slot in Pyleecan¶
Introduction¶
Thanks to the Object-Oriented Programming architecture of Pyleecan, adding a new topology (slot, ventilation, holes…) in Pyleecan is rather simple. We will take the opportunity of this simple example to explore in depth all the know-how and hint required to do a great contribution for the entire Pyleecan community. We will present every single step from installing python to doing your first "pull-request" on Github. To do so, we will guide you through several other pages of this website in the correct order and with the proper introduction.
Step 1: Installing Pyleecan¶
To contribute to Pyleecan the first required tool is… Pyleecan. ou will first need to install Python and an IDE (Integrated Development Environment), then to download Pyleecan. Please follow the procedure to "fork" Pyleecan with git (the "I want to contribute way"), it will be required for the next part of this tutorial.
Step 2: Defining the Slot¶
Now that all the tools are installed, the next step is: What are you going to contribute to? The first place to go is the Github issue page. This page gathers all the open topic from bug to correct, to new feature to add or anything to improve… Basically it is the place where the pyleecan community (users and contributors) gather to discuss about what to develop next. For your new slot, first look at the issues to see if you can help the community by developing a slot that was requested in an issue. If you do not find any (or if you just want to do your own) you can open an issue to describe the slot you are about to add. By opening this issue, the community will be able to help you during your development and maybe tell you that the slot is already available somewhere. We can also help you to improve the slot definition so that other people will be able to use it. For these discussions (and for your development) you will need a schematic: an image that shows the shape of your slot and what each parameter corresponds to. To draw your schematics, we recommend to use Geogebra (or any equivalent tool), it will help you to be accurate in the definition of each parameter, which is very important for others to understand and use your slot. In this tutorial we will define a simple circular slot (to be used for notches) named "SlotCirc" and we will use the following schematics: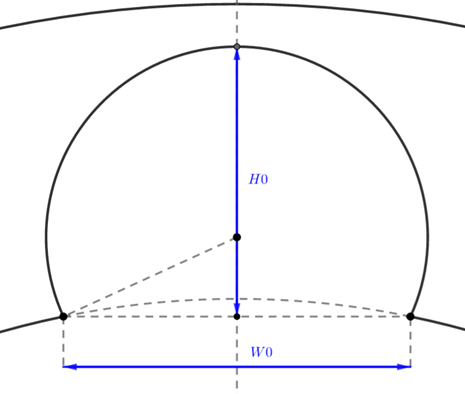 Step 3: Creating a branch with git¶
The first step to work on a contribution is to create a "branch on git". This tutorial explains all the steps required to create your own branch.
Step 4: Creating the class¶
The first modification needed is to create a new Slot class. In Pyleecan all the class files are created with a tool known as the class generator. A dedicated documentation on this tool is available on the website. In pyleecan/Generator/ClassesRef there is one csv file for each class of Pyleecan (organized by type/folder). To create a new one, copy/paste an existing csv file (for instance SlotCirc), rename it and edit it. The name of your file will be the name of the class and it must be unique within pyleecan. In our example we copy the csv file "pyleecan/Generator/ClassesRef/Slot/SlotW10.csv", rename it to "SlotCirc.csv" and here is the edited content:

The "left part" corresponds to the properties of the class. Two lines or two properties has been defined: one for H0 and one for W0. Both are defined to be "float" values greater than 0 and a proper documentation text has been set.

The "right part" corresponds to global information on the class. We have updated the method list (cf next chapter of this tutorial) and changed the class description. Now that your csv file is properly edited, you need to run the code generator to create the corresponding python code. The corresponding command is: :
python pyleecan/Generator/run_generate_classes.py

The class code is now available in the pyleecan/Classes folder. You can have a look at the resulting code to see what method and feature are automatically available but this file mustn39t be edited as it is erased every time the code generator is called. To change a class in pyleecan, one must change its csv file and run the code generator.
Step 5: Defining your methods¶
Step 6: Integrating your contribution into PYLEECAN¶
Now that your slot is ready, you need to share it with the community. Please follow this tutorial to submit your modifications to PYLEECAN.
Step 7: Adding some tests¶
Any new feature should come with a test script. Please visit our test contribution guideline page for advice on how to write good tests.
Step 8: Adding your Slot to the GUI¶
Writing in process…